Onsite Fitting Events
Why you need one
WHAT IS AN ON-SITE FITTING EVENT?

A pop-up uniform store at your location.

In the simplest terms, an on-site fitting event is a pop-up uniform store where employees can shop, try on, and order uniforms. You decide when and where to set up the store, and encourage your staff to take advantage of the convenience.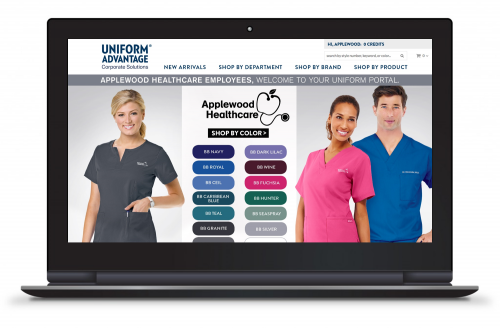 Custom Web Portals
Give your team 24/7 access to your online uniform store to shop when it is most convenient for them.
Customized online web portals make it easy for employees to shop your program-approved uniform styles and colors anytime. We host private, tailored microsites with tools and functionality designed to streamline program administration and save you time. Your custom site can offer a wide selection of colors and styles, or be restricted to display just your approved uniform assortment.
Billing, Tracking, and Reports
Online tools to support shipment tracking, inventory management, and payment methods keep your program easy to manage. Insightful reporting data helps you gauge results and identify potential issues.
Our implementation team equips you with secure administrator access to robust, real-time program reporting and tracking capabilities. Evaluate inventory levels, view detailed order histories, track shipments, and monitor program performance with these powerful online tools. Our administrator portal gives you the data you need to feel confident your program is running as efficiently and cost-effectively as possible.